(NEW PRODUCT) Nuzeel Multisentials Softgel 60s | Reduce Tired & Fatigue
Quantity: 6
---
---
---
Product Description
NUZEEL® is a premium health supplement series from New Zealand which uses only globally sourced premium active pharmaceutical grade ingredients. The brand Nuzeel resonate with Smart Nutrition which is a nutrition science approach of bringing natural health and wellness closer to optimum wellbeing. All products of Nuzeel are manufactured in New Zealand GMP Certified Facility with 100% HALAL Certified Ingredients and practices.
NUZEEL® MultiSentials Soft Gel contains activated B group vitamins, including B1, B2, B3, B5, B6, B7 B9, B12 and vitamins D & E in a base of natural avocado oil to help support general wellbeing.
• Vitamin D3 550I.U. • Vitamin B1 (Thiamine Hydrochloride) 53.43mg • Vitamin B2 (Riboflavin) 20mg • Vitamin B3 (Nicotinamide) 50mg • Vitamin B5(Calcium Pantothenate) 21.1mg • Vitamin B6 (Pyridoxine Hydrochloride) 20mg • Vitamin B7 (Biotin) 20mcg • Vitamin B9 (Folic Acid) 0.06mg • Vitamin B12 (Cyanocobalamin) 25mcg • Vitamin E (d-alpha tocopherol) 10I.U. • Avocado oil base (Rich source of vitamin E, vitamin A, vitamin D, vital antioxidant like beta carotene and lutein, lecithin, and omega fatty acids 3,6,9)
Health Benefits • Supports normal energy levels • Supports healthy nervous system • Maintenance of general wellbeing • Maintenance of mental performance • Reduction of tiredness and fatigue • Supports vitality and endurance naturally
Suitable for • General population who wants to improve their quality of life • Individuals who lead a hectic lifestyle • Tired and Fatigued individuals • Stressful lifestyle • Malnourished (poor diet)
Suggested dosage Adult: One capsule once daily with meal or as directed by your doctor or pharmacist
Manufactured by Alpha Laboratories (NZ) Limited, 48 Crooks Road, East Tamaki, Auckland, New Zealand.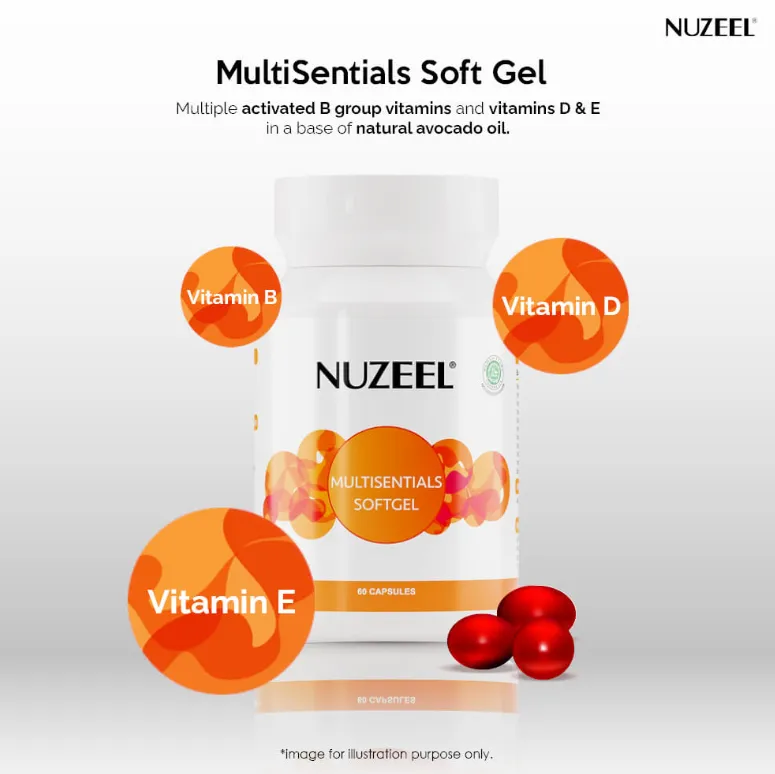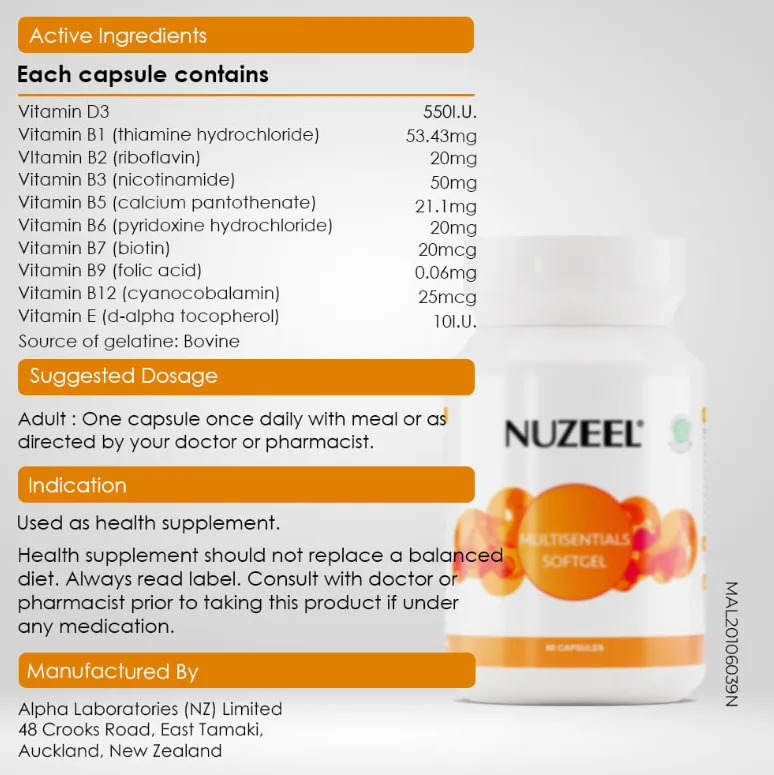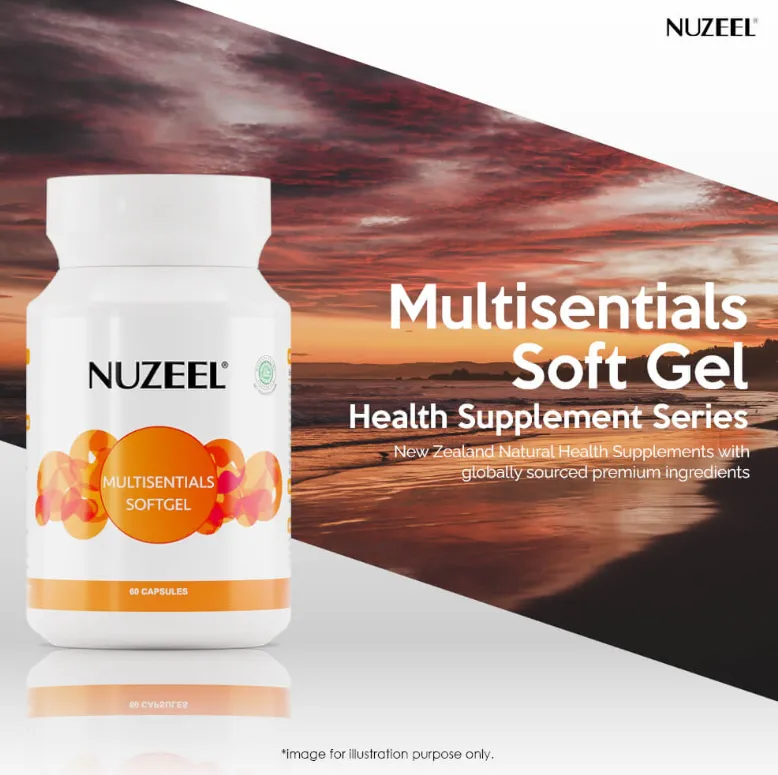 Inquiry - (NEW PRODUCT) Nuzeel Multisentials Softgel 60s | Reduce Tired & Fatigue