NATURA HOUSE Progeli Dermoprotective Moisturizing Hand Cream with CoQ10 75ML (FOR SENSITIVE SKIN)
Brand: NATURA HOUSE
Quantity: 7
---
---
---
NATURA HOUSE Progeli Dermoprotective Moisturizing Hand Cream with CoQ10 75ML (FOR SENSITIVE SKIN)

PROGELI Q10 hand cream, Skin-protective and regenerating hand cream with linseed and coenzyme Q10.
Content of natural ingredients - 98.5%
Moisturizing, regenerating, soothing, with linseed oil and Q10.
Suitable for any type of skin, summer and winter.
The high content of essential oils and natural active ingredients gives this hand cream a special moisturizing and skin-protective properties.
Does not contain coloring agents, parabens, paraffin and PEG.
Dermatologically tested.
Active Ingredients:
Citrus Lemon (Citrus Oil)

Prunus amigdalus dulcis (almond oil)

Cera alba (bee wax)

Cucumis sativus (cucumber extract)

Linum usitatissimum (linseed oil)

Ubiquinone (Q10)

Propolis Citrus aurantium dulcis (orange oil)

Citrus aurantium bergamia (Bergamot oil)

Pelargonium capitatum (geranium oil)

Metha piperita (peppermint oil)

Cymbopogon nardus (Citronella oil)
Usage: daily in the morning and in the evening.

Gentle moisturizing cream For dry/chapped hands - Deeply moisturizing - Ideal for daily care of the hands - Restores chapping skin to soft skin - Protects skin from harsh environments (cold, wind, detergents) by forming protection layer on skin surface How to use: Apply on hands as needed throughout the day and at bedtime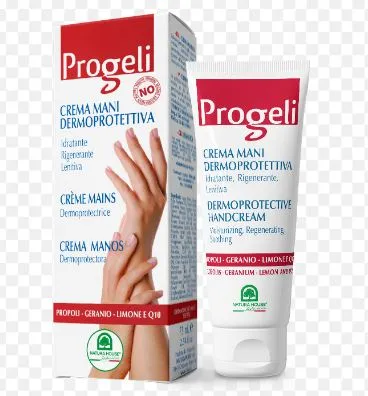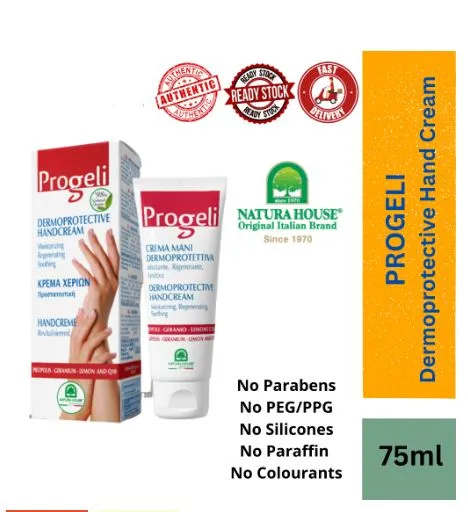 Inquiry - NATURA HOUSE Progeli Dermoprotective Moisturizing Hand Cream with CoQ10 75ML (FOR SENSITIVE SKIN)